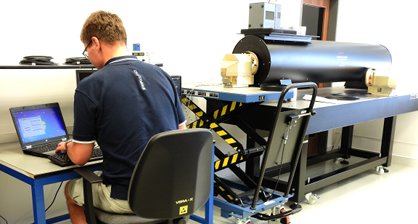 The technology of monitoring systems ranks amongst the very important factors of defence for both military and civil needs and customer's requirements for monitoring systems grow bigger every day. Thanks to its effort for continuous improvement and development of its overview, the company EVPÚ Defence, which influences the market over fifteen years, belongs amongst the world's top in this field.

Recently, the company has bought a new, advanced device for daylight and infrared camera optical attribute's measurements. Thanks to this device, collimator DT250, we are newly able to test optical attributes of daylight and infrared optical systems without further increase of our product's price, or test already complete optical devices in case of interest of the customer.

One of the main tested parameters, characterizing monitoring system quality, is MRTD characteristics (Minimum Resolvable Temperature Difference) for infrared and MRC characteristics (Minimum Resolvable Contrast) for daylight cameras. EVPÚ Defence company sticks during its measurements with unified rules given by the international standard STANAG and thanks to that, the results of detection, recognition and identification ranges according to precisely stated conditions are ensured during our measurements, allowing to find a suitable solution for every individual customer.

Amongst the other tested parameters of our monitoring systems are MTF characteristics, spatial and temporal noises determination, geometrical and TV distortion measurement, daylight camera systems sensitivity, or verifying of field of view dimensions.

Thanks to professional and individual approach the company EVPÚ Defence guarantees optimal solution's achievement for each individual problematics and our customer's contentment is our priority.
Files
REVIEW Article EVPÚ Defence about collimator (Download)